The Chosen One vs. The Double Agent
Warning: This is all personal opinion and take. Nothing biased on any of the characters that I use here, please leave constructive critisicms, I will really appreciate them. But nevertheless, enjoy.



Bios:
Anakin Skywalker:
Anakin Skywalker was a young human male born to an unknown planet 41 B.B.Y. He spent his early years as a slave alongside her mother, Shmi Skywalker. In 32 B.B.Y, Skywalker will meet Jedi master Qui-Gon Jinn and his padawan Obi-Wan Kenobi, whom later sensed the boy's strong potential in The Force and also by Jinn's believe that Anakin was the prophesized "Chosen One", who would destroy the Sith and "Bring Balance to the Force". After a series of events, Anakin was released and later taken to the Jedi Temple to be trained. His Jedi Master would be Obi-Wan Kenobi, who would spend many adventures as Master and Padawan. During The Clone Wars, his skills as a Jedi would develop much faster, from participating in numerous battlefronts, as well as engaging in many vicious lightsaber battles with both the notorious Jedi Hunter, Asajj Ventress and the Sith Lord, Darth Tyranus (AKA Count Dooku). These feats will be enough for him to ascend as a Jedi Knight, as well as to be the mentor of the young Ahsoka Tano, who will leave the Jedi Order later on in 20 BBY. The next year, in the final stages of the war, Anakin will succesfully both defeat and kill Count Dooku, on board the Invisible Hand, during the Battle of COruscant, while rescuing Chancellor Palpatine in the process. After feeling visions of her wife Padmé Amidala dying and facing a difficult situation with the Jedi Council, Skywalker turns to the Dark Side of the Force by becoming Darth Sidious' 3rd Sith Apprentice under the title of "Darth Vader" and becoming the greatest Jedi killer in Galactic History, after saving the elder Sith from Mace Windu's killing blow. In 4 A.B.Y, Anakin would resurface in Vader's mind and kill Darth Sidious. With that, he fulfilled his destiny as The Chosen One, redeems with his son Luke Skywalker in his dying moments and leave the physical plain to become One with The Force. Prior to his fall, Anakin was closer to become one of the most powerful Jedi in history to compete the like of both Yoda and Mace Windu.
Quote:
"I am your master!
"
"
Darth Vader's master! But not Anakin Skywalker's!
"
―The Redeemed Anakin Skywalker to Darth Sidious, before he throws the latter to The Death Star's II reactor core shaft.
Background Theme: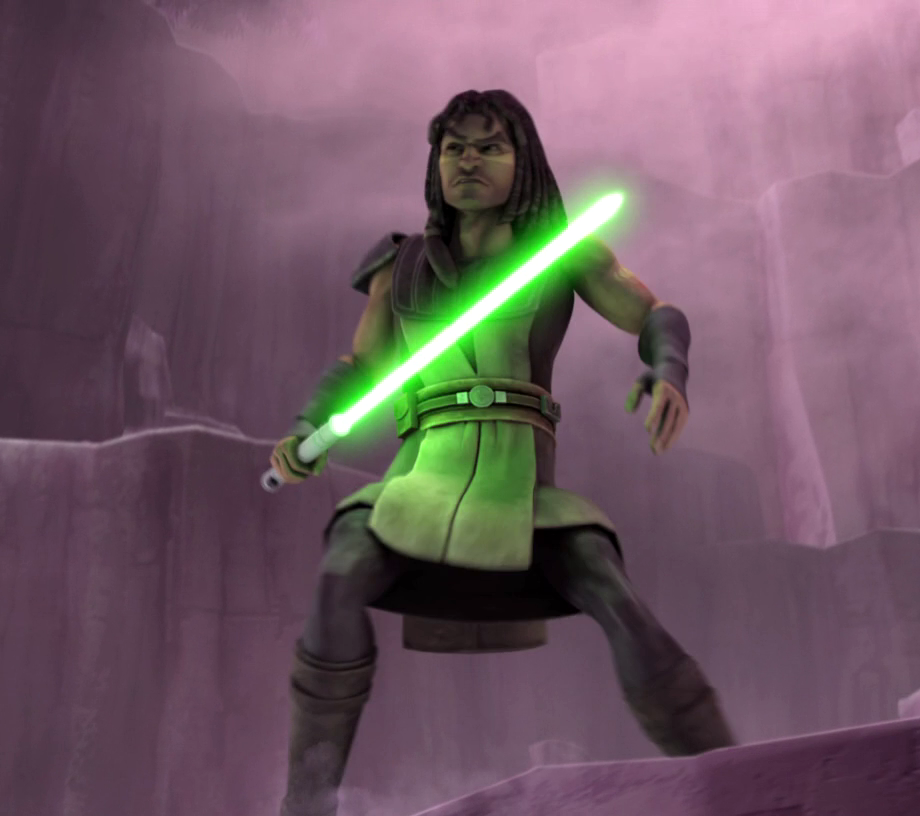 Quinlan Vos:
Quinlan Vos was an adult Kiffar male born on the planet of Kiffu in 57 BBY. He was trained by Jedi Spymaster, Tholme. Later on, he will take a part in the training of the young Twi'lek, Aayla Secura, though it is completed by Tholme himself. However, Vos was known for his hardships of walking between The Light Side and The Dark Side of the Force. This would be put to the test, during The Clone Wars, when Quinlan himself was tasked by the Jedi Council, to roleplay as a double agent for both The Republic and The Confederacy of Independent Systems. However, Vos gained the interest of both Darths Sidious and Tyranus and later became one of Dooku's Dark Acolytes, trained by the Count himself and by the fallen Jedi Master, Sora Bulq. But after a difficult series of events, Vos will manage to overcome his inner demons during the Siege Of Saleucami, in 19 BBY and will defeat Sora Bulq in a fitting lightsaber battle. However, Vos swore later on that he will leave the Jedi Order after the Clone Wars' end when he discovered that he was becoming a father with Khaleen Hentz, a separatist agent Darth Tyranus tasked to spy on Vos himself. At the time after the Battle Of Saleucami, Quinlan Vos will participate in two battlefronts, during the ending stages of the Clone Wars. Boz Pity and Kashyyyk. During the battle on the wookkie planet, Order 66 was triggered against him, but fortunately, Quinlan survived and hidden with her wife and his newborn son named Korto Vos fading into obscurity.
Quinlan Vos' fate however, will be shaped once he appears in the upcoming Clone Wars novel, where he will be starring alongside Asajj Ventress, which is released on July 7th. But this Vs. was released before the book itself.
Quote:
"No more games, Count. No more pretending. I know who I am. I've made my choice. My name is Quinlan Vos and I am a Jedi."
―Quinlan Vos to Dooku on Saleucami.
Background Theme:

Introduction:
I will be pitting these characters in their respective stages. For Skywalker, this will be in the time he defeated Darth Tyranus before he fell to the Dark Side. For Vos, his prime will be when he defeated his inner demons during the Battle Of Saleucami. Now then, let's dive in.
Physical Attributes:Anakin Skywalker:
During The Clone Wars, Anakin Skywalker was a 22 year-old human in his early prime. Anakin had extremly developed reflexes for someone of his age, followed by a good level of speed and endurance. Great examples are his long lightsaber duels with Asajj Ventress, as well as his numerous encounters with Count Dooku. Among said battles, it was described during Anakin's final duel with Dooku that his lightsaber blade was moving very fast that his vision was filled in blue. Anakin had no problem with hand-to-hand combat, when necessary and he also demonstrated to show good taking on physical punishment, though it was taken to a certain degree. If there are examples to make on Anakin's resistance to pain would be likely being electroshocked on many ocassions, by people such as Osi Sobeck, Robonino, The Zygerrians, The Electrostaff of the Magna Guards and last but not least Count Dooku's Force Lightning. On the whole, Anakin was physically strong and determined to go on at all costs and in excellent physical condition.
Quote:

"You are strong and wise, Anakin, and I am very proud of you. I have trained you since you were a small boy. I have taught you everything I know, and you have become a far greater Jedi than I could ever hope to be."
―Obi-Wan Kenobi
Background Music:

Quinlan
Vos:

Quinlan Vos was born to the Kiffar Race. The Kiffar are a species hailing from the Outer Rim Planet of Kiffu. They are very similar to humans for their appearance and they also have a yellowed tatoo in his face. It is also said that one about 100 members of the Kiffar would have the ability to read inanimated objects based on the psychometry technique (For example: Corpses). But I will adress this ability further in the Force Abilities section, since it isn't very appealing in a physical combat. Still Vos shown great levels of speed, durability, as well as capable to outmanuever and overpower his enemies when the situation was called for it. Good examples to mention are Vos dealing with many blaster wielding assailants during his missions as a Jedi Agent or even his lightsaber duels, where he faced the likes of the manipulative Volffe Karkko, the Beserker Sora Bulq, the interminable K' Krhuk and the agile Aayla Secura. His resistance for physical pain as well as for physcological torments was also admirable on his part. A great example is when he was able to survive the explosion of a tank during Order 66. In order to make sure Quinlan Vos was truly down for good would be either a decapitation or even a stab through the heart. On the whole, Quinlan was in good shape and miles ahead from being a decrepit.
Quote:

"Two Morgukai against one wounded Jedi? Seems unfair. Would it help if I closed my eyes?"

―Quinlan Vos to Tsyr and Bok.
Background Music:

Result:
I personally believe that there isn't much to say about these two, aside from being strong, fast, durable and agile. Both are capable enough to take fair amount of physical punishment, maintaning lightsaber duels for fair periods of time, keep going despite the two of them being trashed by Force Powers during lightsaber duels and face many opponents at the same time. Both can pack punches and kicks and they are capable to power through one another. On the whole, I believe both Anakin and Quinlan were very on-par in this regard. For that reason, I deem both Skywalker and Vos as equals in terms of how their physicalities stack up against each other.
Winner: Even.Quotes:
"
Soon I will have a new apprentice… one far younger and more powerful.
"
―Darth Sidious to General Grievous.
"I am not part of the dark—simply deeper in the shadows."
―Quinlan Vos
Force Abilities:Anakin Skywalker
Anakin Skywalker was born with the potential to become one of the most powerful Force Wielders in Galactic History. However, he didn't had the tactical variety or the refined application as a whole. This was due to both his arrogance, followed by his limited studies in the Force Area, since he prefered lightsaber combat first and foremost. His general application of the Force was on the whole very few and far between. But in other cases, Skywalker showed great cases of raw power, and also well rounded magnitude, making him among one of the most potentially powerful Jedi in the Order. Some of the cases of Anakin's application were impressive. Examples would be when Skywalker managed to Force Push a huge dome at Ventress, during their encounter on Yavin 4; or when he managed to manipulate telekinetically a bunch of Separatists Missiles. In adittion, Skywalker showed some talents for other abilities like Basic Augmentation, Force Heal, The Saber Throw, Force Speed, followed by the use of both Force Repulse and Force Wave. Anakin showed a great 6th sense in the Force, followed by his use of Force Vision, where he will see the deaths of both her mother, as well as her wife, Padmé Amidala. Adittionaly, Anakin's Force Wall was reliable in some ocassions, as demostrated when he manage to withstand Ventress' Force Push. But when it came to resist Force Lightning or Choke, he was practically overwhelmed. But on the whole, even despite his limitations and his straight-foward approach in his uses of his Force Abilities, Anakin Skywalker was still with the most raw ability that was superior to the majority of his peers.
Quote:
"You're not all powerful, Ani."
"Well I should be! Someday I will be. I will be the most powerful Jedi ever!
"

―Padmé Amidala and Anakin Skywalker
Quinlan Vos:
Like Anakin, Quinlan Vos was more of a duelist-centric than a Force User. Despite this trait, Vos had shown some fair application in his Force Abilities. He was able to use Telekenisis to lift objects and also penetrating the Force Walls of other Force Users, as evident in his battles against K'Krhuk and Aayla Secura. He also used Basic Augmentation to increase both his durability and strength during combat. In adittion Vos also applied Force Cloack, where he learned form his master Tholme and it will play a great role in his many missions and he would later teach this ability to her Jedi Apprentice Aayla Secura. As I said in the "Physical Attributes" area about the Kiffar ability of reading inanimated objects, Vos used not only for his investigations, such as learning who used the item last. In fact, he was capable to read corpses, as he did when he was in proximity with Oppo Rancisis' dead body and read all of his strategies and tactics for the Battle of Saleucami. However, Vos' Force Powers wouldn't stop there. In his time as a Dark Jedi, trained by Darth Tyranus, Vos will learn Dark Side Abilities of the likes of Force Choke, Force Lightning, as well as Beast Control. Vos' use of Force Lightning was in fact, very novice and he never seemed to show any high maestry with the ability, in comparison to other users, mainly Sith Lords of high magnitude. In the defensive, Vos really left a lot to be desired, due to his weak nature of his Force Wall, as evident by his fight against Count Dooku where he was truly outclassed. Another example can be where his master Tholme managed to subdue him with his Force Push Abilities. But on the whole, Vos was very competent in the Force despite both his weaknesses, as well as his limitations.
Quote:

"Have you crossed that line, pitiful Jedi? You are a novice with it."
―Volfe Karkko, to Quinlan Vos
Background Music:
Result:
This area is a little tricky to judge at first. While is true that Anakin is potentially more stronger than Vos in the Force, Quinlan has studied to gain some of his abilities in that regard. But were capable of using some of both their Light and Dark Side Abilites. Both were capable to penetrate the Force Walls of other Force Users. Their method was direct and straight foward for the most part. While it is true that Vos can use Force Lightning against Anakin. However, I personally think that his use was very novice to the point that Anakin will be able to block with his lightsaber. In other aspects of the area, i personally view it as a disparity. But, without making this situation a tie between these two, I personally believe that Anakin Skywalker gets the edge as a Force User, due to his raw ability and also for his magnitude being possibly superior to Quinlan Vos, in that regard.
In short, Anakin Skywalker gets the edge in terms of Force Abilities. Though this is only for a fair margin.
Winner: Anakin Skywalker.Quote:
"
He is powerful. Potentially, even more powerful than myself
"
―Darth Sidious to Count Dooku, about Anakin Skywalker.

Lightsaber Skills
Anakin Skywalker
In his time as a Jedi, Anakin Skywalker started as both a Form IV Ataru and a Form III Soresu user, since Obi-Wan Kenobi taught him earlier in those combat styles. He will later add Form V Shien to his skill set.
But after his defeat at the hands of Count Dooku, during the Battle Of Geonosis, Skywalker will set his skills on the alternate branch of Form V. The Djem So, where he will become a refined master of the form itself, even by Dooku himself, during their final duel on board the Invisible Hand. Anakin took Djem So very to heart than the other 3 forms previously mentioned. Mostly because Djem So was suitable for a proper onslaught during lightsaber battles, such as the ones he had with the deadly Dark Jedi, Asajj Ventress, as well as his battle against the Fallen Barriss Offee.
Aside from his performances in lightsaber combat, Anakin has shown great displays regarding blast deflection, facing many armies of droids on many battlefronts of the Clone Wars, such as Kamino, Geonosis, Mon Calamari, Jabiim and many others. Additionally, Anakin has also added Form VI Niman, the form of Moderation and Balance and in adittion the gateway for the Jar'Kai dual-blade combat form. It was believed that Skywalker was using Form VI as an exercise method instead of real use for battle. His proficency with the use if dual sabers was very reliable as he used it for a brief period of time in his fight against Barriss Offee and he used in other sporadic ocassions.
On the offense, Anakin was agressive and deadly. His defense, was at best, reliable. However, Anakin showed that he was not without his weaknesses. Whenever he was pushing in the offense, he ended up being exposed to any possible counter his opponent could throw at him. This is evident in his first match with Asajj Ventress, on Yavin 4, where Anakin charged at her and the Assassin decided to use her Force Abilities to bring him down and since Skywalker never expected that to happen, he ended caught off balance in some moments. Another example to be made would be on one of his other matches with Darth Tyranus, specially the one that took place in the episode "Crisis On Naboo", when Anakin managed to push the Sith Lord to it's backfoot, forcing the latter to unleash a very concentrated torrent of Sith Lightning to thrash him away in the process.
In adittion, Anakin was also susceptible to Djem So's main weakness, which was it's lack of mobility. But as he gained experience in time of the Clone Wars, Anakin will walk into the path of one of the greatest swordsmen within the Jedi Order.
Even before his convertion to the Sith it is very likely that Anakin Skywalker was on the path of matching the likes of Mace Windu, Grandmaster Yoda and even Darth Sidious.
Quote:
"
If you had spent as much time practicing your saber techniques as you do your wit, you would rival Master Yoda as a swordsman.
"
"
I thought I already did.
"

"Only in your mind, my very young apprentice."
―Obi-Wan Kenobi and Anakin Skywalker
Background Music:


Quinlan Vos:
Quinlan Vos started out as both a Form IV, Ataru, the acrobatic lightsaber combat style, and Form V Shien, a branch of the 5th Form dedicated to redirect blaster bullets back to the shooter. He became very proficent in these forms, that he will teach them to her Jedi Padawan, Aayla Secura.
Later on, during the Clone Wars, mainly when he became a Dark Jedi, working for Darth Tyranus (a.k.a Count Dooku) and later, the fallen Jedi Battlemaster, Sora Bulq, Vos will add to his repertoir both Form II, Makashi and Form VII, Vaapad. He will learn Form II, from Count Dooku because the Sith Lord himself view his combat approach as both sloppy and appaling. However, Vos didn't seem to be very into this Form, compared to other users instructed by the Count, like Qui-Gon Jinn, Komari Vosa and Asajj Ventress. But when it came to learn Form VII Vaapad, under Sora Bulq, it was all different.
But before I go into details with Vos' developement of Vaapad, let me re-quote from well on how the Form itself operates. Form VII Vaapad, according to the "Revenge Of The Sith" Novelization, is known for being both an agressive and powerful form as well. But this power came at great risk: immersion in Vaapad opens the gates that restrain one's inner darkness. In order to use this Form well, a Jedi must allow to enjoy the fight. In short, the user must give himself over the thrill of battle. As Mace Windu himself, the creator and sole master of Vaapad, said:
"
Vaapad is more than a fighting style. It is a state of mind, a path that leads through the penumbra of the dark side.
" In adittion,
The practitioner of Vaapad would accept the fury of their opponent, transforming them into one half of a superconducting loop, with the other half being the power of darkness inherent in the opponent. On the whole, it works to make a more powerful and faster counterattack.

Under the fallen Jedi Master, Vos learned some maneuvers and showed them to Mace Windu, during a sparring match. After that match, Vos attempted to restrain himself from using this form. But he also suspected that the Kiffar mastered Vaapad to a fair degree. This will be proven by his victory against Sora Bulq, during the Siege Of Saleucami.
On the whole, Vos's evolution in the lightsaber combat was from the novice, who was competent to face groups, to the Jedi duelist, who can give many memeber of the Jedi Council, a run for their money.
Quote:

"It can take the user very close to the dark side—and you, frankly, sometimes walk too close there as it is."
―Mace Windu
Background Music:


Result:
Once again, they seem to be on par with one another. Mostly, because they shined highly as lightsaber duelists. They had almost similar combat style choices, being both Form IV, Ataru and Form V, Shien. But this was also followed by some different adittions to other styles. Anakin added later on, Form V, Djem So and Form VI, Niman. While, Quinlan Vos added both Form II, Makashi, and Form VII, Vaapad. But they were also some stark differences as well, in terms of their combat approach. Their offense were powerful and reliable. Both were capable to face some of the best duelists of their time. Anakin, with his many duels with Dooku and Ventress, coupled with his match against Barriss Offee. Quinlan Vos, with his duels against Dooku, Sora Bulq, Volfe Karkko, as well as other Dark Jedi, like Tol Skorr and Kadrian Sey. They also proved to be good at the use of the Jar'Kai technique was well done, though they remained true to the use of the single blade, where they shined highly.
If there is a vital difference between them would be between variety and maestry. Anakin posseses the variety of forms, something that Vos has it limited. And regarding maestry, Anakin slightly has it due to his use of Djem So, to the point that even Darth Tyranus viewed him as the more refined master of the form. I cannot say for Vos' application of Vaapad, even though Mace Windu viewed his maestry in form itself. However, there are fair possibities of Vos getting an edge over Anakin if he uses Vaapad at the Young Jedi. But Anakin can be fast enough to put Vos on his backfoot, in case the Kiffar doesn't use Vaapad against him. At best, it the fight can turn into a stalemate, which also makes it difficult to determine who gets the edge there.
For that, I deem both Anakin Skywalker and Quinlan Vos as equals, in terms of Lightsaber Skills.
Winner: Tie between Anakin Skywalker and Quinlan Vos.Quote:
"Master Drallig teaches this form, and I think Master Windu invented a variation on it, too. He calls Vaapad, just like Bane's Sith Instructor did Could Master Windu be a–? Nah. Still, I'll look into it."

―Vos, while reading a section on Darth Bane's
The Rule of Two.


"The boy has exceptional skills."
"But he still has much to learn, Master. His abilities have made him… well, arrogant."

―Mace Windu and Obi-Wan Kenobi.
The Outcome:

Before I go into detail, I want to let you know that during a "Jedi vs. Jedi" no killing blow comes into play, due to Jedi Morale. However, since this is a fight between two Jedi with Dark Side Tendencies, this restriction will not get a pass here. Let's set up this fight. Let's say that the fight takes place in Count Dooku's Palace's Courtyard, on Serenno. Both fighters will stand in the same distance both Darth Tyranus and Savage Opress took in the episode "Witches Of The Mist" from CGI The Clone Wars.
They will ignite their respective lightsabers at the same time and run at each other. They will hammer with everything they have by trading powerful lightsaber blows here and there. Anakin attacks relentlessly with Djem So, while Vos, retailates with Shien. They engage each other in a saberlock, which it breaks by a simultaneous Force Push applied by both Anakin and Vos, though it is Skywalker's Force Push is barely the superior out of the two, despite the two of them being sent away in the process.
As the two Jedi get up each from their own fall, they will restart their assaults again. However, Quinlan will attack with Ataru, hoping to unbalance Skywalker. But the latter, will use Ataru to counter the Kiffar's efforts. They will be even once again for some time and they also get lightsaber skits from each other here and there. However, as Vos tries to press his offense, Anakin will counter with much stronger counters, which is enough to push his opponent to it's backfoot.
In desperation, Quinlan will attempt to Force Push Anakin away to gain some ground. However, Skywalker retaliates with facing the attack and musters up his own Force Push to send the Jedi Master flying away. Vos will recover quickly and he will use Force Lightning to hold Skywalker. The bolt hits his opponent, though not fully, as Anakin gets up from the attack. However, this gives Quinlan Vos enough time to push Skywalker on the defensive. As Anakin tries to back up he gets 2 skits from Vos' saber. In a fit of rage by these attacks, Skywalker launches a Force Repulse to send the Jedi Master away. Vos hits the ground and while he recovers, he sees a lightsaber thrown at him. He leaps over the blade in time, but he is Force Pushed by Anakin, as he becomes all the more unrelenting, pushing the Jedi master on the defensive.

With nowhere else to go Vos chooses to use his ability of Vaapad to neutralize Anakin's frenzy. It works as he manages to channel Anakin's Darkness and counters with much speed to make Anakin stumble back, after 3 sudden slashes. One went to his chest, the other in his left cheek and the third, near the shoulder. Enraged by this, Anakin will release another Force Repulse, sending the Kiffar Jedi Master away.
After managing to connect a hit at the Kiffar with a cleeve of his lightsaber, Anakin will follow it with a punch from his mechanical hand. The next attack will be a swift cut near the shoulder. The following strike is an overhead one, breaking Vos' defenses and he finally lands his killing blow at Quinlan's heart.
Thus, I deem Anakin Skywalker, The Chosen One Of The Force, The Winner.
Ultimate Winner: Anakin Skywalker.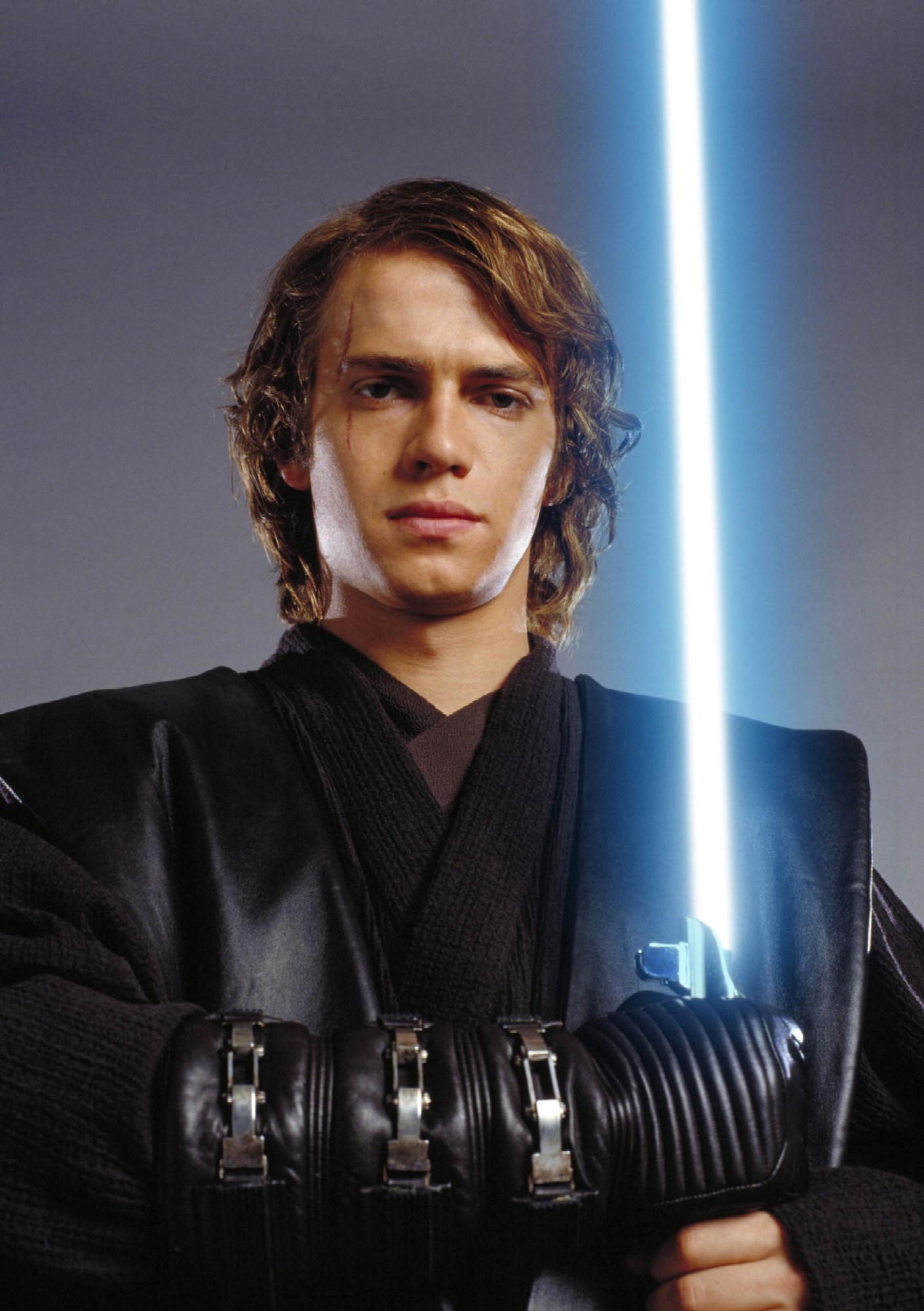 Background Music:



Well people I hope you enjoy this kick off for Season 2 even if you don't highly agree with the outcome as a whole. In my opinion, Anakin takes 5.2/10. I will understand if you beliee Vos had a fair chance of victory. This is just my opinion, nobody else's. With that said, I hope you enjoy and tune for more Versus Series. Thanks for watching and May The Force Be With You.

COMING SOON...