Clarifications:
Before I go further with the Prelude of the Death Battle itself, I wanna thank

for the Azula info for this match-up. Thanks a lot dude.
CrystalFire7: Howdy DeviantArt people. Today I present you something that everyone does, which is of course, a "Death Battle". This is CrystalFire7, your host and I am escorted by my co-host. Nightmare Rarity.
Nightmare Rarity: Hello people. Ok then, what is the point for this "Death Battle" here?
CrystalFire7: Well we have tow young girls, whose ultimate fates are highly demanded by their beloved fanbases from their different franchises. Which is why we have pitted against each other, Azula, The Sadistic Princess of the Fire Nation and Ahsoka Tano, The Reckless and Snippy Jedi Apprentice of the infamous Anakin Skywalker.
Nightmare Rarity: But before we can see them blowing each other to smithereens, first we will be giving a look to their respective capabilites and feats so it can determine the outcome of this match as a whole. *sigh* How unamusing.
CrystalFire7: Now then. Let's dive into them.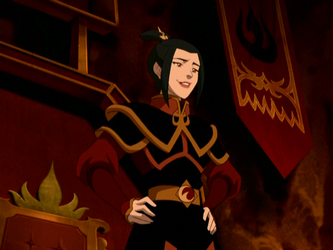 AZULA
Aliases: None.
Species: Human.
Affiliation: Fire Nation (Formerly), Dai Li (Formerly).
Age: 14

Occupation: Crown Princess of the Fire Nation (Formerly), Firebending master, Head of the Dai Li (formerly), Mental health patient (formerly) and Princess Regent (overthrown by Zuko before her coronation).
Gender: Female
Hair color: BlackBirthplace: Fire Nation Capital.
Appearance: "The Siege Of The North Part 2" December 2nd, 2005.
FEATS
-Was one the most dangerous enemies Aang has ever faced.-Before Book 3 she dominated every encounter she had with her brother Zuko.-Defeated the Kyoshi Warriors with both Mai and Ty-Lee.-Conquered Ba-Sing-Se in less than a week.-Defeated the majority of Team Avatar.-Nearly killed her uncle Iroh.
-She killed Aang in his Avatar State with a single blow of lightning.
Nightmare Rarity: *raises her brow as she looks at her feats* Now that's impressive. Not your typical princess, huh.
CrystalFire7: Well to explain things a little better. Azula was molded by her father, FireLord Ozai to be the dealiest assassin out there.
Nightmare Rarity: And he did it.
CrystalFire7: That's what it seems, but we will go later on, Azula has demonstrated to show a greater range of abilities. From Physical Abitilies as well two different types of Energy knows as bending in the shape of both Fire and also Lightning. Firebending is an art of pyrokinesis, which Azula demonstrated a very prodigious use of it since she was a child.
Nightmare Rarity: To the point where she make those blue flames.
CrystalFire7: Exactly and to let people know the blue flames can produce alot more heat than both yellow and orange flames altoghether.
Nightmare Rarity: Damn...
CrystalFire7: Exactly. But that's not all. Azula has shown to have a higher level of chi, which allowed her to become a Master Firebender.
Nightmare Rarity: But she had also shows a wide arsenal of many Firebending Techniques. From Propulsion, to Breath of Fire. But let's talk about the Lightning Bending.
CrystalFire7: Right. But first let's give the people the following list of her capabilities in the Firebending Departament.
Firebending:
Master Firebender-Produces blue flame (max temp. 9,010 degrees Fahrenheit)-High qi/chi level-Mastered numerous Firebending techniques * Fire Streams * Fireballs * Blocking and Deflecting * Fire Blades * Blazing Rings and Arcs * Fire Daggers * Fire Whips/Lashes * Can charge/augment attacks * Wall of Fire * Flame Propulsion * Breath of Fire
Nightmare Rarity: And now for the Lightning Bending part.
CrystalFire7: That's right, Your Highness. Lightning Bending is another art of bending that focuses on generation and also for redirection.
Nightmare Rarity: But it doesn't charge that fast like the Sith Lightning because it takes a lot precision, followed up by well rounded control of the energy, as Iroh said in his training to Zuko. But Azula hasn't shown any redirection, in comparison to others. But still, it remains deadly in every level. From instant-kill to even leave a serious long-term injury. But it's major handicap lies in the fact that it can't be controlled. It is only for regulation and also direction.
Lightning Generation:
Advanced technique of Firebending
Requires precise control of yin and yang energy
Allows user to generate and discharge electricity streams
-Frequently instant-kill strikes
-Even if non-fatal, inflicts crippling, long-term burn injury
-Can be regulated and directed, but not controlled

CrystalFire7: Speaking of bending arts. Azula has other abilities to back it up if she can't access to her bending abilites, she can sort out on her reliable Physical Condition, which serves as a good backbone for her fighting prowess such as...
Nightmare Rarity: Her strength which is enough to puncch soldiers in the face, great acrobats, followed by great levels of agility, speed, durability and even flexibility. If you don't wanna believe it, then this file speak for itself.
Physicality:
Peak Condition Human-Peak Condition Strength * Could punch out full-grown soldiers with ease-Peak Condition Stamina * Capable of fighting for hours on end without tiring-Peak Condition Durability * Can endure rock blasts, water strikes, fire attacks and compressed air, and still continue fighting easily-Superhuman Speed-Superhuman Agility * As fast, if not faster, than even Avatar Aang-Superhuman ReflexesMaster Acrobat-Can perform a planche using only her arms, with little effort-Capable of performing high jumps with no effort-Able to run up walls
CrystalFire7: That's right. But there are also her Martial Arts abilities, which is another back-up to her firebending abilities.
Nightmare Rarity: Such as Taekwondo, the Northern Shaolin Kung Fu, The Southern Dragon Claw art, the Xingyiquan (Since when that is a word?) and the Chaquan Art.
Martial Arts:
Master Martial Artist
Martial prowess acts as cornerstone of all Bending techniques
Firebending, in particular, incorporates numerous styles of Asian origin
-Taekwando
* Korean origin
* Emphasizes kicking over punching
* Emphasis on highly technical, fierce kicking strikes
* Techniques include high kicks, whirling strikes, spinning attacks and swift, direct maneuvers
-Northern Shaolin Kung Fu
* Chinese origin
* Close-range; focuses on strong, technical kicks
* Also utilizes fast punching strikes
* Utilizes circular, whirling blocks
* Quick advances and retreats
* Speed, agility and ferocity are key
-Southern Dragon Claw
* Chinese origin
* Powerful, quick, short-range attacks
* Revolves around mainly grappling and clawing techniques
* Intended to mirror a dragon "swooping down on its prey"
-Xingyiquan (Form-Intention Fist; Shape-Will Fist)
* Chinese origin
* Classic Seven Stars of Chinese kung fu - on the hands, feet, elbows, hips, knees, shoulders and head - are incorporated into Firebending
* Praying Mantis Techniques in particular are prominent; quick, successive attacks that utilize momentary bursts of extreme power, much like an explosion, called ging lik
* Optimizes a strong continuous offense, sacrificing defense for greater power
-Chaquan
* Chinese origin
* Long-range fighting style
* Involves acrobatics and agile, graceful movements
* Emphasizes on ranged movements and strikes, combined with speed and power
* Often used for armed combat, but also works well when unarmed.


CrystalFire7: Last but not least. Her intelligence.
Nightmare Rarity: She is known for being a very manipulative and cunning warrior. Those traits are supported by great tactical ingeniuity and the fact that she can study and copy her enemies moves, followed by knowing when she is walking into a trap and counter that. Last but not least, she enjoys to mock her enemies. Which is my specialty after my powerful magic *smirks*.
CrystalFire7: That's quite true.
Intelligence:
Manipulative and cunningTactical Genius-Can identify and counter traps with ease-Capable of studying and copying moves-Analytic in combatLoves to taunt and mock opponents
Nightmare Rarity: Aside from all the capabilities that Azula. Do you have anything else to say about her? Like weakness, just saying.
CrystalFire7: Yes Azula is not without her weaknesses and they are quite serious.
Nightmare Rarity: Can you at least mention them or you can at least make it simple?
CrystalFire7: Most of them can from the psychological aspect, not physical. To name them in the psychological range Azula from Mental instability, it mostly from her possible OCD (A.K.A Obsessive compulsive disorder), which is bad enough to affect her Firebending.
Nightmare Rarity: Making it weaker?
CrystalFire7: Actually, the more unstable she is the dangerous her firebending becomes. Whcih is not good for her and it an drain her energy too quick for this. This is why in her Agni Kai against Zuko she wasn't capable to dominate the fight as a whole.
Nightmare Rarity: And then Katara put her out of her misery and mental breakdown comes in.
CrystalFire7: Exactly. But this mental issue that Azula faces came from her believe that her mother Ursa prefered Zuko over her. Later, her problem grew worse as Mai and Ty-Lee betrayed her.
Weaknesses:
Mental instability-Can affect her Firebending-Possibly suffering OCD (obsessive compulsive disorder)-Empowers her Firebending with rage, but drains her chi rapidly.
Nightmare Rarity: But despite those issues, Azula has shown that she is not someone to mess around and you bring her down for good or you're burned down to the ground.
CrystalFire7: Indeed.
Quote:
"
Yes! We defeated you for all time! You will never rise from the ashes of your shame and humiliation!... Ah that was fun.
"
―Azula.
AHSOKA TANOAliases: Snips (Anakin Skywalker); Kid (Clone Captain Rex); Commander Tano (Clones and Tarkin); Padawan Tano (Jedi) and Little Soka (Plo Koon).Species: TogrutaAge: 16Homeworld: Shili.Age of birth: 36 BBY.Occupation: Jedi Padawan (Formerly)Affiliation: Jedi Order (Resigned) and Galactic Republic (Formerly).Eye Color: Blue.Skin Color: Orange.Hair Color: None.
Appearance: August 15, 2008 in "Star Wars: The Clone Wars" (Movie Pilot)FEATS:-Survived deadly duels against Asajj Ventress and General Grievous.-Defeated Pre Viszla and Hondo Onhaka in her lightsaber duels.-Killed and defeated some Death Watch Soldiers.-Killed Trandoshan Hunter Garnac.-Survived and escaped near-death situations.-Defeated Jedi Hunter Aurra Sing on Florrum.-Defeated Zygerrian Slaver Darts D'Nar.-Manage to defeat an entire legion of Shock Troopers with the aid of her rival Ventress.
-Apprentice to Anakin Skywalker, the famed Chosen One of the Jedi Order.-Murdered Osi Sobeck, saving Tarkin's life. Thus being indirectly responsible for Alderaan's destruction.
-She was about to ascend the rank of Jedi Knight after her name was cleaned. But she resigned instead.

Nightmare Rarity: Well, sure there are interesting but they are not very relevant since they were many Jedi in the Clone Wars. But she can have some nerve to obtain these feats. Specially from being under the thumb of an obnoxious prick version of "Luna" that calls himself "The Chosen One". I mean Anakin Skywalker, for crying out loud. *sighs*
CrystalFire7: Suprising or not, Tano had to deal with a lot of the hardships of the Clone Wars, such as battling dangerous Jedi Killers of the likes of Asajj Ventress, Aurra Sing, Cad Bane and General Grievous. Even though, she didn't defeat all of them. But she did her best as she could despite being in utter disadvantage.
Nightmare Rarity: Or as some smuggler would say about never being told by the odds. But whatever. *Unamused tone*
CrystalFire7: Speaking of odds. Ahsoka Tano is mainly a Jedi Guardian. This means the type of Jedi who prefers the lightsaber over the Force. As her main styles she had Forms IV (Ataru), Form V (Shien/Djem So), Form VI (Niman) and last but not least, the Jar' Kai variant, the dual blade lightsaber combat. For her personal equipment she carried both a standard lightsaber and later on a shoto with a yellow/green blade, so that she could keep pace with duelists such as Grievous and Ventress.
Nightmare Rarity: But she got so accoustomed to such style that will become one of her many undoings in her Jedi Carrer.
COMBAT TRAINING…Form V Shien.-Redirect Blaster bullets back to the shooter.
-Utilized the Reverse Handgrip version of the form.
-Ineffective in single combat.
Form VI Niman-Jack of all traits style.
-Balances both Force Abilities and Lightsaber sequences
-Entry to the dual blade Jar'Kai variant.Form IV Ataru-Acrobatic lightsaber combat.
-
Effective in single combat for a short burst since this form takes a lot of stamina from the user.
-
Fast, powerful strikes from multiple directions.
Form V Djem So

-
Strength oriented lightsaber combat.

-
Quick defenses and strong counterattacks.

-
Produces stronger kinetic strikes.Jar'Kai-Dual Lightsaber Combat.

-
Utilize Niman version.

-
Takes pieces from previous lightsaber forms

Unarmed Combat

-
Able to land powerful kicks and punches.DUAL LIGHTSABERS-Both her lightsaber and her shoto.
CrystalFire7: But her lightsaber skills and unarmed fighting were not only her pny abilities in combat.
Nightmare Rarity: Because like any Jedi she has The Force. In her skillset, there are the Force Push, followed by Telekenisis, where she can send people or even droids flying like rag dolls. Next there are the Force Jump, which strengths her ability to jump higher. The Jedi Mind Trick to have a strong influence over weak subjects. The Force Illusion which allows to distract or confuse people and the Force Speed to increase her agility, in short bursts. But there is also her Force Perception, which allowed to boost her Togruta Special Awareness, which we will explain it later on.
CrystalFire7: Generally the typical Force Abilites that any Jedi and Sith as at their disposal.
FORCE ABILITIES-Force Push-Telekenisis-Jedi Mind Trick-Force Augmentation-Force Jump-Force Speed-Force Stealth-Force Illusion

-
Force Perception.
-Force Vision.
CrystalFire7: But Ahsoka is obviously not human. She is coming from an alien species called the Togrutas which they are coming from the jungle Planet of Shili.
Nightmare Rarity: They are generally tougher, faster and more flexible than humans. Among their special features, they are known for having larger horn projections called montrals. Which they serve for special awareness or...
CrystalFire7: give them a sense of echolocation. An example when danger comes in or when their prey was coming and they can even read the person's heartbeating.
Nightmare Rarity: You're kidding right?.
CrystalFire7: Nope. But, another interesting fact is that they also have sharp canine teeth w
hich they used to painlessly kill thimiars,
their primary prey, causing the creatures' post-mortem death spasms.


Nightmare Rarity: *Speachless*
CrystalFire7: But in adittion, this made some outsiders to think the Togruta themsleves were posionous. But they never did anything against such saying and they even used in their favor to intimidate.
Nightmare Rarity: So that makes......some sense.
TOGRUTA PHYSIQUE

-
Montrals/Lekku that gives a special sense of echolocation.
-Much tougher and flexible than humans.

-
White tatoos in her face

-
Sharpened teeth.

CrystalFire7: But aside from her abilities on both the Lightsaber Combat, her Force Powers and it's Togruta Physique. Ahsoka demonstrated to have a lot of weaknesses.
Nightmare Rarity: Which really leaves alot to be desired and they also speak for themselves such as the ones we are going to present you in a listed format.
CrystalFire7: Because presenting them with a diagram or pictures wouldn't be enough proof for it.
Nightmare Rarity: Exactly.
WEAKNESSES-She relies too much in her secondary weapon.-Lost to both Barriss Offee and Asajj Ventress on certain ocassions.-Weak Force Wall.-Has been captured many times by Non-Force Using groups, such as Pirates and Trandoshans, or knocked unconcious by Lux Bonteri or Commander Wolffe.-Can't keep up long fights due to her low stamina.-Limited scope of her Force Abilities.-Lost her weapons at times.-She is very impulsive and has been outsmarted at times.
-She remains unexperienced.
CrystalFire7: But despite the many weaknesses and undoings of her own, Ahsoka has proven that she isn't to be underestimated in a good level, even the situation can be turned against her.
"
I'm not so young. Anymore.
"
―Ahsoka Tano, before she battles the Zygerrian Darts D'Nar.